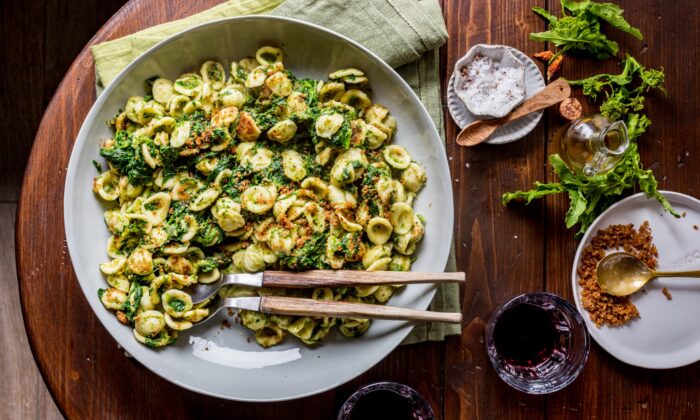 This classic regional pasta dish is finished with a toss in an anchovy- and garlic-infused, chile-spiked olive oil. (Giulia Scarpaleggia)
Cime di rapa, turnip greens—also called rapini or broccoli rabe—are the most representative vegetables of the Apulian winter, piled on the market stalls and dinner tables of this Southern Italian region.
They are the protagonists of a regional dish, orecchiette con le cime di rapa. The flowers and the most tender leaves are boiled along with fresh orecchiette, the local, ear-shaped pasta made just with semolina flour and water, and then tossed in an anchovy and garlic-infused olive oil, spiced with chile. Apulian olive oil is usually quite bitter, a perfect complement to the bitter greens.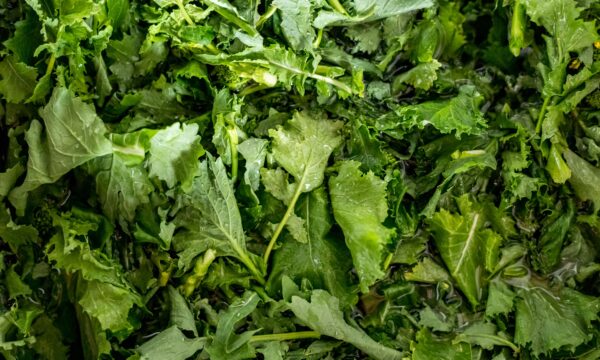 This dish is topped with breadcrumbs fried in olive oil, which have always been considered the poor man's cheese. They add color, flavor, and a satisfying crunch. If you want to go the extra mile, serve the orecchiette with burrata, the local cheese with a filling of shredded mozzarella and cream.
Serves 4
1 1/2 pounds broccoli rabe
1 pound fresh orecchiette (or substitute dried)
5 tablespoons extra-virgin olive oil, divided
1 clove garlic, crushed
4 oil-packed anchovy fillets, chopped
Red chile pepper flakes to taste
1/4 cup breadcrumbs
Salt
Clean the broccoli rabe: Remove the most rigid stalks, then rinse under running water and rip into large pieces.
Bring a large pot of water to boil, salt it as you would to cook pasta, and plunge the broccoli rabe into the water. Submerge with a spoon and cook for 10 minutes or until soft.
Into the same pot, add the orecchiette and cook until al dente, according to package instructions. (If using dried orecchiette, which requires a longer cooking time, first remove the broccoli rabe from the pot and set aside, before cooking the orecchiette in the same water.)
In the meantime, pour 4 tablespoons of extra-virgin olive oil into a large pan, followed by the garlic and anchovies. Add chile pepper flakes to taste. Heat the oil over medium heat and cook for 5 minutes, until the garlic is golden and the anchovies melt.
Drain the orecchiette and broccoli rabe and toss them into the pan with the garlicky olive oil.
In a smaller pan, toast the breadcrumbs with one tablespoon of extra-virgin olive oil for 5 minutes, until golden brown.
Sauté the orecchiette with the broccoli rabe for 2 minutes over medium heat, tossing well to coat with the garlicky olive oil. Sprinkle with the toasted breadcrumbs and serve immediately.