When Michelin star chef Atul Kochhar decides to do something, it has to be with panache. So no surprises then that his new dining space – SAGA: Cuisines of India – is a stylish progressive Indian cuisine restaurant by day, a chic high energy bar post 10:00 pm, and a space for live gigs and DJ nights on weekends.
Chef Atul Kochhar and restaurateur Vishal Anand have joined hands to give Gurgaon this massive dining space spread over two levels and an alfresco section. What catches the eye when you walk in is the tall ceiling and the enormous, nearly 40 feet high bar, which is one of the tallest bar displays in the world and occupies the pride of place.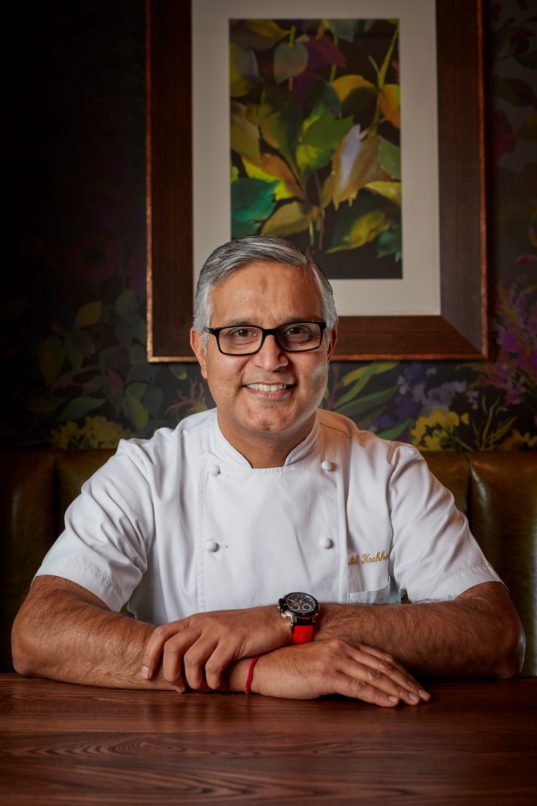 True to its name, SAGA is all about stories that find an echo everywhere – in the cocktails, the dishes, and the restaurant itself. "When people come in to dine, we have a designated storyteller called SAGA tellers – like if you go to a museum you have guides, so here we have people to take you around and tell you how it is conceptualised and built," Vishal Anand tells us.
 After you stop craning your neck at the bar and soak in the elegant space, a beautiful leather-bound menu takes you to places across India. It is clearly divided into entrees, Indian curries, and accompaniments and desserts. Each dish has a story behind it. "SAGA is a modern Indian, fun dining outlet with deep roots in Indian food culture and hospitality," says Kochhar. "The recipes are inspired by different regions and flavours that have crossed the boundaries of the country and made their space in a more global space."
The dishes arrive plated and presented beautifully. And talking of chic – the servers roam around in uniforms designed by fashion designer Raghavendra Rathore. Some of their signature dishes from the Michelin star chef are the Sea Tangle and Darjeeling tea leaf – a seaweed-based recipe, Khari Paneer Tikka, Ayam Tikka, Khade Masale ki Boti, and Crab Milagu. Out of these chef Atul Kochhar picks Ayam Tikka as his favourite – tandoor smoked chicken with hints of "Malay" garam masala, lime and ginger that amalgamates Indian and South-East Asian flavours. He says, "I have always been fascinated by the journey of recipes through different regions and eras. This recipe has one of the most intriguing stories."
You can spend hours browsing the menu if you are interested in the history of the dish. My eye went to the trivia behind one of my favourites, Dal Moradabai, that told me how this dish was born. It's not your regular dal, of course – it comes in a pie crust and is loaded with butter – and that's the twist we are talking about. Kochhar has chosen classics but given his own touch and picked flavours from distant places not easy to experience. "SAGA food is about true emotion of the various smaller cuisines that make up our diversity," he adds.   
 When the food is so delectable, how can the cocktails be far behind? The 16 signature cocktails again highlight the history of India. For example, the 'Char Minar' cocktail has four liquors in it. I particularly loved the 'Maharaja Sour' – their take on the whiskey sour with Jim Beam White, berry liqueur, chamomile, and citrus notes.
 Undeterred by the pandemic, Kochhar wants to take SAGA to other cities as well. "I prefer to move on and look to a bright positive future. We want people of India to have a wholesome experience with SAGA, and let's hope we will open in different parts of the world too."
Where: Ground Floor, B-Block, Vatika Atrium, Sector 53, Gurugram
Contact: +91-7428922300/400
Cost for two: Rs. 3,000 plus taxes without alcohol
Timings: Noon – 1:00 am 
All images: Courtesy restaurant