My friend Suzanne Pollack, the dean of the Charleston Academy of Domestic Pursuits, has taught me how to make these incredibly easy and delicious, light and fluffy English muffins. They do take time to make, but most of it is hands-off, just to let the dough rise and rise again. No complicated techniques here.
She makes them with buttermilk, and I have to say, once you try them, you will never go back to regular, store-bought English muffins. You can make a large batch and keep them in the fridge for a few days—or the freezer for longer—and split and toast them as needed.
Makes 24
2 tablespoons active dry yeast
1 tablespoon sugar (or honey or molasses)
1/4 cup water
1 cup buttermilk
1/3 cup sour cream
Scant 1/2 cup whole milk
4 cups flour
1 1/2 teaspoons coarse salt
5 tablespoons unsalted butter, at room temperature, cut into half-tablespoon pieces
Cornmeal
Mix yeast, sugar, and water in a small bowl and let sit for 10 minutes, until the mixture is foamy.
In a large mixing bowl, whisk together the buttermilk, sour cream, and milk. Add the yeast mixture.
Add the flour, salt, and butter, and mix with a wooden spoon until the dough comes together and pulls away from the sides of the bowl, and all the flour is incorporated. (You can also do this in the bowl of a stand mixer, first incorporating the flour and salt on low speed, and then adding in the butter one piece at a time, with the mixer running.)
Transfer the dough to a floured surface, and knead until smooth and no longer sticky, about 10 minutes, sprinkling more flour as needed.
Transfer the dough to a large, cleaned and oiled bowl, cover with a dish towel, and place in the warmest part of the kitchen to let it rest for at least 1 hour, or until the dough has doubled in bulk. (After rising, the dough can also be refrigerated for up to two days.)
Generously dust two rimmed baking sheets with cornmeal.
Transfer the dough to a clean surface and flatten slightly with your hands. Using a serrated knife, divide the dough into 24 golf ball-sized pieces. Roll each piece into a ball and arrange 12 on each cookie sheet, pressing with the palm of your hand to form a disk. Flip each muffin to cover on both sides with the cornmeal, and make sure the bottom of each muffin is sitting on plenty of cornmeal.
Cover with a dish towel and let the dough rise again, for at least 30 minutes. The muffins will be puffy after their rise. (At this point, the muffins can be kept on the baking sheet, covered with plastic wrap, in the refrigerator overnight.)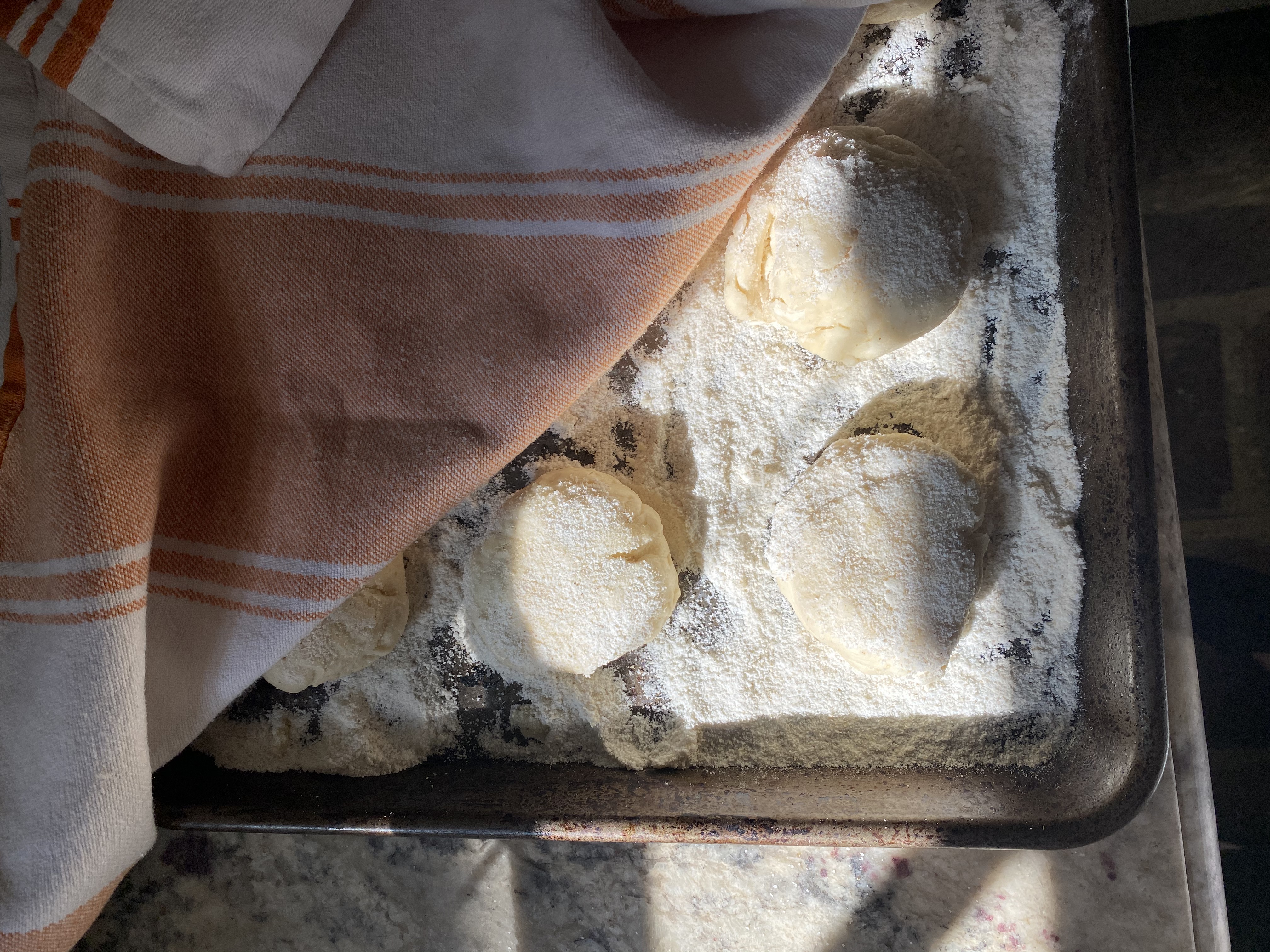 Preheat a 14-inch sauté pan (or two 9-inch pans) over medium-low heat. Working in batches so as not to overcrowd the pan, place the muffins in the hot pan and cook 10 minutes per side, until lightly brown.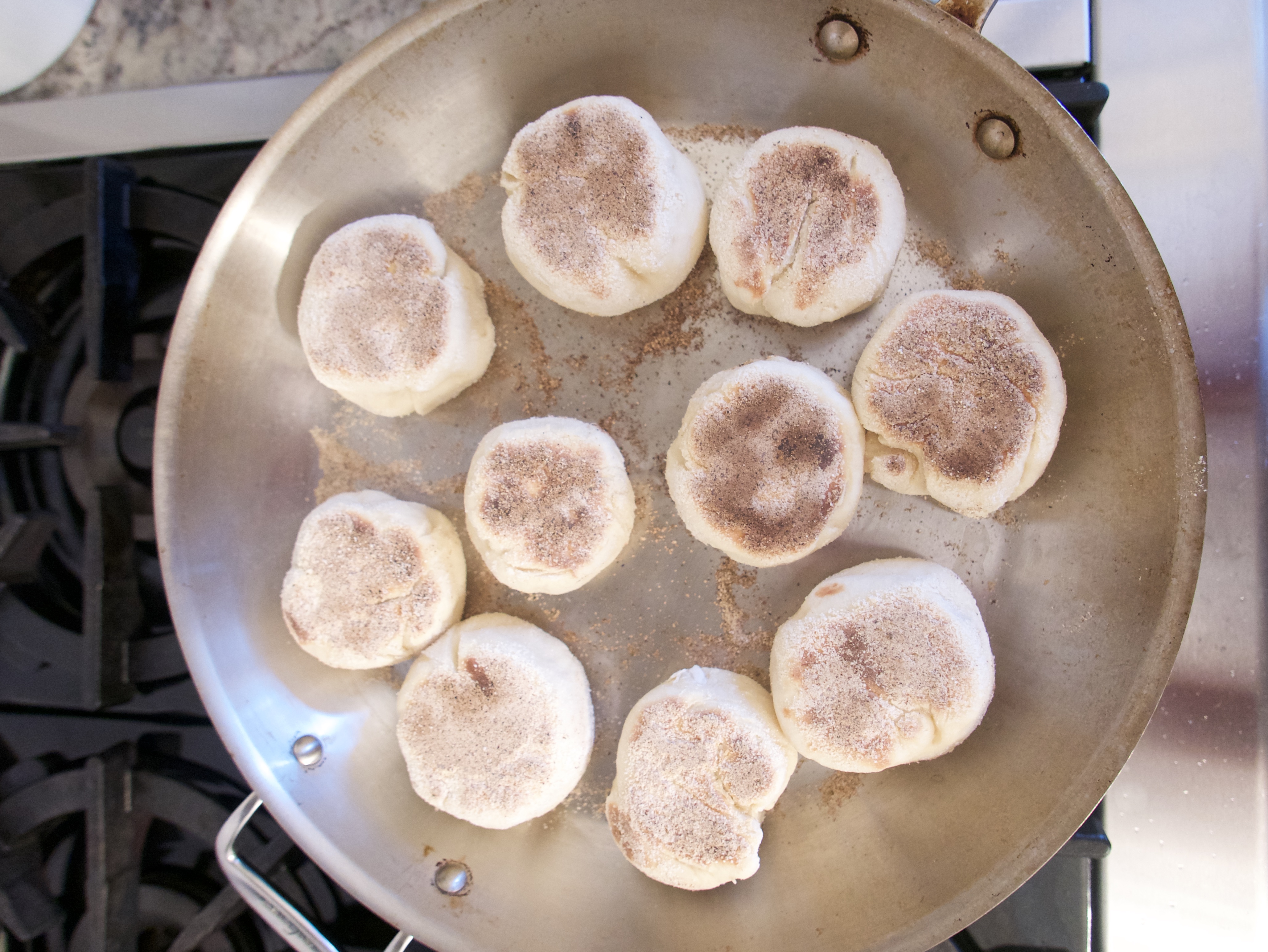 Slice the muffins in half, toast, and spread with butter to serve!